INAYA DAY: The Voice You Know! Whether it's Hip Hop, R&B, Funk, or House music, she's in there. You've heard her voice on Mousse T's "HORNY", on "NASTY GIRL", and "KEEP PUSHIN", but we must go on to mention a few others like, I AM THA 1, GLAMOROUS LIFE, MOVIN UP, SHOUT IT OUT, and REACH OUT TO ME. She's had numerous UK, Aria, and Billboard top tens, (including 6 Billboard #1 dance/club play-charters), with no signs of stopping! In 2013, MAKE SOME NOISE with DJ Escape & Tony Coluccio, blessed INAYA with another top 10 slot; making it her 12th to date. Besides writing for herself, INAYA has written for Bootsy Collins, Randy Crawford, and Missy Elliot, to name just a few. In addition to house music, INAYA writes,records and performs gospel, musical theater, jazz, R&B, and Hip-Hop, (QUEEN LATIFAH, MC LYTE, MISSY ELLIOT, SEAN PUFFY COMBS, BIG DADDY CANE, etc). Seeking to gain more control over the fate of her music, Inaya has started her own record label , Ny-O-Dae Music, from which she's released the titles, HIGHER PLACE, CHASE ME, THAT NIGHT, ONE WAY (which graced the ARIA chart in 2011 and 2012), the reggae flavored, "JUMP UP & DOWN", LOOKING FORWARD and no, ROCK THIS PARTY. Inaya also had a moment in film when she acted and sang as "Jiffy" in "WHO SHOT PAT?" with Sandra Bullock in 1989. It's no wonder that this card-carrying member of the Actor's Equity Association, groomed in church and musical theater (THE WIZ, LITTLE SHOP OF HORRORS, etc), would become one of the most prolific writers and frequently heard voices on the Universe's dance floors. Listen out for current singles from Inaya including Frankie Knuckles presents Director's Cut, LETS STAY HOME, her collaboration with DJ Escape, MAKE SOME NOISE, Little Louie Vega's production, CITY LIFE, and more; OUT NOW in all digital retail stores. Give Inaya a shout on twitter. She'd love to hear from you. www.twitter.com/InayaDay ( @InayaDay ) To Learn More about INAYA DAY, visit: WWW.INAYADAY.COM WWW.REVERBNATION.COM/INAYADAY INAYA'S YOUTUBE PAGE www.youtube.com/inayaday
Label: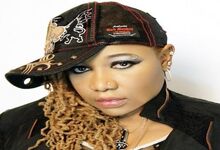 Community content is available under
CC-BY-SA
unless otherwise noted.