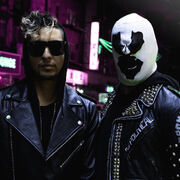 FIGHT CLVB is an dance music group comprised of three very unique individuals. SAV formerly known from theMoombahton outfit "Sazon Booya" takes the helm of theproject as producer, DJ, visual content creator, as well asproject manager. He is also the director of T he Electro Warsdocumentary and producer for ASAP Rocky's Purple Swagmusic video and Skrillex's "Rock N' Roll". Carly M Burns is a classically trained musician whoproduces with SAV and writes for the project. She alsoperforms live with the group. Her vast skill set includesplaying live violin and piano, elements that will be includedinto FIGHT CLVB's live shows in the near future.Mystereo, the masked hype man known formerly for hiscrazy no nonsense antics as the hype man for SazonBooya will dawn the stage once again as FIGHT CLVB'shype man and group adviser. The masked man never reveals his identity to anyone!
Community content is available under
CC-BY-SA
unless otherwise noted.